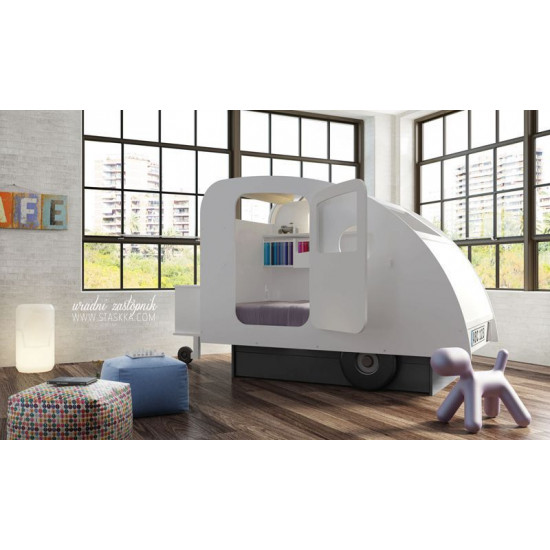 Pre-Order
The toy meets all regulatory safety standards and complies with European directives 2009/48 / ES on toy safety.
Caravan bed Mathy by Bols
The Caravan bed is one of the bestsellers of Math by Bols, the bed surprises with its shape and seduces with his universe. Despite being an original bed, it is also very functional. Inside, some shelves are designed in order to accommodate the necessary objects. Some toy boxes for teddy bears or for other objects are designed inside the caravan in order to store some objects or even some secrets. The Caravan bed can also accommodate a drawer bed for easy storage or an extra bed for friends. The Caravan bed can be in the center of the room and could have two openings on the sides, in a more conventional way, against a wall of the bedroom. The trailer area is designed like a toy box and be used as storage for kids. Furthermore, the roof has an opening and the child can come and open it totally or partially. It is also possible to close entirely the roof and to get a cocoon area inside the bed. The Caravan bed offers an invitation to travel and allows the child to develop his imagination by creating his own stories in this creative and original bed. With the Caravan bed, the child would come and create his own universe in his bedroom. He will imagine new adventures, dream, play, invent, read,… The little extra : the registration plate is customizable !
Furthermore, Mathy by Bols uses only wood qualified PEFC. The wood is a natural and resistant material perfectly adapted for the creation of kids' bedroom. The Caravan Bed is proposed in MDF and in pinewood available in 27 colors, hand-applied and water-based colors.
For 90x190 cm mattress
With perforated melamine MDF white base
Left or right door, to choice during installation
Base with drawer 80x140 cm = Basalt grey + black wheel
Inside: 1 big box along the mattress + 2 shelves
2 hooks
1 removable ecru cloth
1 personalized license plate: 8 characteres maximum
2 lights reflectors
Chest, helm in option
112x197x148
Stock:

Pre-Order

Model:

CAR LIT 90 F

Weight:

175.00kg
Mathy by Bols