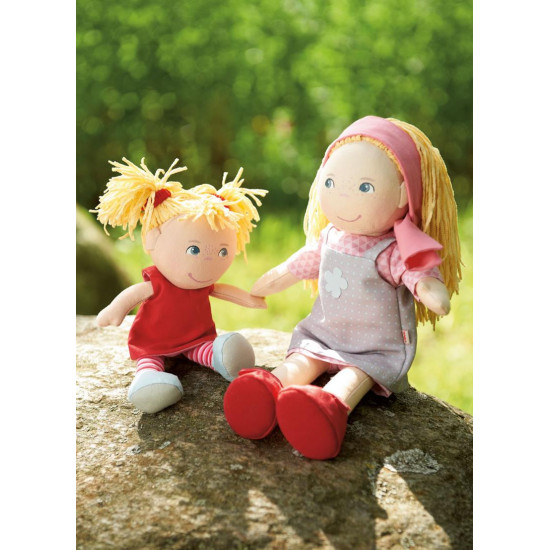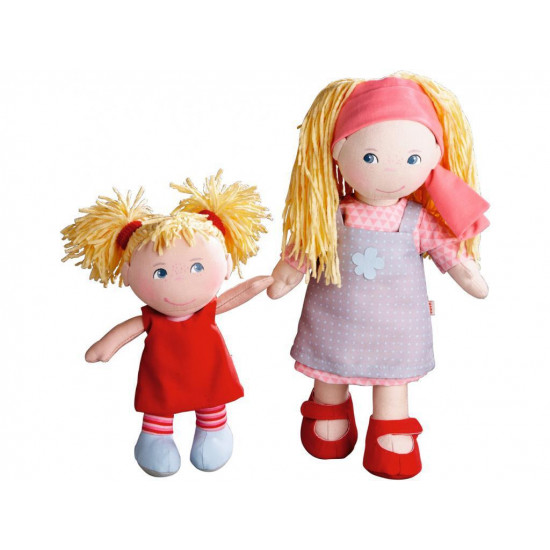 5-7 Days

The toy meets all regulatory safety standards and complies with European directives 2009/48 / ES on toy safety.
Haba lutka Lennja z Ellin
Haba lutka Lennja z Ellin
Haba lutka Lennja s sestrico Ellin sta 30 cm velika deklica Lennja in 18 cm velika sestrica Ellin. Lennja nosi lasni trak, Elin pa dve gumice. Oblečeni sta v oblekici in čeveljčke. Dojenček je velik 12 cm, priložena kapica in baby kengurujček. Priljubljena tako za deklice kot dečke. Vsaka lutka je izredno mehka na otip, ki postane vašemu malčku ali malčici pravi ljubki prijatelj čez vso otroštvo.
Za Haba lutke so značilne številne funkcije:
- vezeni nasmeh, ki daje lutki prav prisrčen videz,
- telo je polnjeno iz poliesterske volne, da lahko lutka obdrži obliko (npr. sedenje),
- lasje so iz mehke bombažne preje katere je mogoče stilirati v kakršnokoli pričesko (npr. kitke ipd.)
Punčke Haba so izdelane iz kakovostnih materialov in kot nalašč primerne za domišljijske igre vaših otrok.
Velikost: cca. 30 cm (Lennja) in 18 cm (Elin)
Material
: oblazinjeno telo, ženiljski lasje, oblačila iz bombaža / poliestra in velurja
Čas dobave: 1 dan od dneva plačila kupnine (dostavna lsužba med vikendi ne posluje)
Otroške lutke so primerne za otroke stare nad 1.5 leta +.
Stock:

5-7 Days

Model:

HA-300128

Weight:

0.50kg
HABA