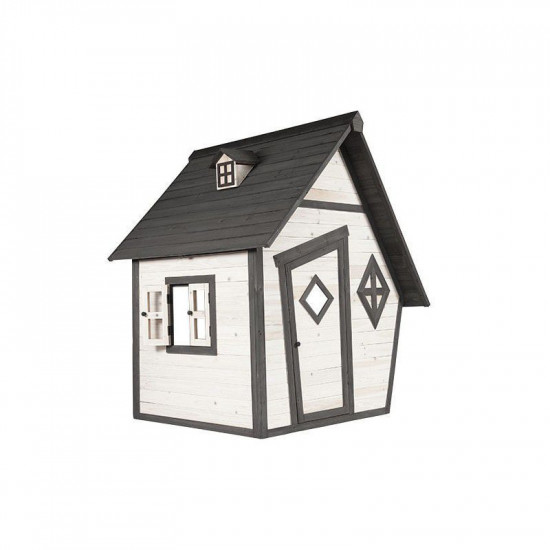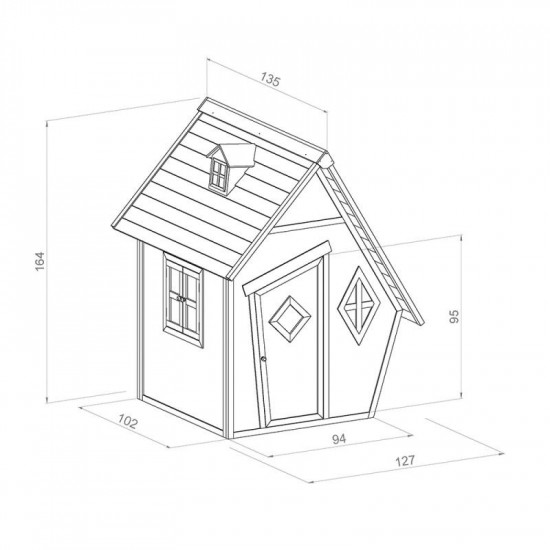 Sold out

The toy meets all regulatory safety standards and complies with European directives 2009/48 / ES on toy safety.
Playhouse Cabin
Otroška hiška Cabin, je narejena iz vzdržljivega lesa cedre, ki je odporen na različne škodljivce, plesen in druge nevšečnosti.
- 100% F S C les
Forest Stewardship Council je neodvisna, neprofitna, nevladna organizacija, ki je vzpostavila mednarodni sistem certificiranja gozdov in stremi k ohranitvi gozdov ter vzpodbuja odgovorno gospodarjenje z njimi.

FSC certifikat predstavlja zagotovilo kupcem, da kot proizvajalec izdelkov iz lesa:

• Podpiramo okolju primerno, družbeno koristno in gospodarno upravljanje z gozdovi.
• Podpiramo uporabo domicilnih drevesnih vrst.
• Ohranjamo biotsko raznovrstnost, reprodukcijsko sposobnost gozdov in ekoloških procesov v njih.
• Pomagamo lokalni in širši družbi, da uživa dolgoročne koristi zaradi ohranjanja gozdnih virov ob upoštevanju dolgoročnega, trajnostnega načrtovanja upravljanja z gozdovi.
• Podpiramo trajnostno gospodarjenje z gozdovi, ki zagotavlja dovolj donosa, ki ne gre na račun gozdnih virov, ekosistema ali prizadetih lokalnih skupnosti.
Velikost: 159 cm x 102 cm x 94 cm
Debelina sten otroške hiške je 15 mm, debelina tal 38 mm.
OPOZORILO:Samo za domačo uporabo. Otroška hiška je primerna za otroke 2-10 let.
Teleskop ni vključen v ceno. Dodatke je možno naročiti po prednaročilu. Možnost dodatkov si lahko ogledate na naši FB strani.
Sestavljanje te otroške igralne hišice je enostavno in odrasli osebi po priloženih navodilih za sestavljanje vzame približino 60 minut. Otroška igralna hišica ima okna narejena iz pleksi stekla, okna in vrata na tej vrtni igralni hišici se zapirajo z magnetom. Igralna hišica zadovoljuje najstrožje varnostne standarde in ima certifikata EN71 in TÜV. Hišica za otroke nosi tudi oznako FSC, ki zagotavlja odgovorno ravnanje z gozdovi (izdelki s to oznako prihajajo iz gozdov, kjer so izpolnili socialne,gospodarske in ekološke potrebe sedanjih in prihodnjih rodov).
OPOZORILA: Hišica zaradi majhnih delcev (v nesestavljeni obliki) ni primerna za otroke mlajše od 3 let. Hišico mora sestaviti odrasla oseba. V nesestavljeni obliki obstaja tudi nevarnost da pride do poškodb z ostrimi delci, zato naj bo izven dosega dojenčkov in majhnih otrok.
NAVODILA ZA VARNO IGRANJE: Ne dovolite otrokom, da bi se igrali brez nadzora odrasle osebe.Plezanje po hišici in igranje na strehi hišice ni dovoljeno. V hišici se lahko hkrati igrata dva otroka naenkrat in en odrasli (max teža, ki jo prenese je 150 kg).
NAVODILA ZA SESTAVLJANJE: Hišico sme postaviti le odrasla oseba. Hišice ne postavite na trdo podlago kot je asfalt, saj lahko padec s hišice otroku v tem primeru povzroči resne poškodbe. Za hišice, ki so od tal dvignjene več kot 60 cm, mora biti v obsegu 1,5 metra okoli hišice mehka podlaga - kot je recimo trava ali pesek. Hišico postavite na ravno podlago in naj bo najmanj 2 metra oddaljena od drugih objektov kot so recimo stene hiš, garaže, ograje..
MATERIAL: Hišice so narejene iz lesa cedre, ki je naravno odporen na morebitne škodljivce in vremenske nevšečnosti in nosijo pečat FSC, ki zagotavlja odgovorno ravnanje z gozdovi (za vsako posekano drevo proizvajalec posadi novo drevo). Zaradi zagotavljanja dodatne zaščite je bila hišica premazana s premazi na vodni osnovi, ki so povsem neškodljivi za ljudi ali okolje.
VZDRŽEVANJE: Priporočljivo je, da na hišici vsaki dve leti obnovimo zaščiten premaz na vodni osnovi.
DODATNA OPOZORILA: Padec s hišice lahko pri otroku povzroči resne poškodbe, zato upoštevajte navodilo, da hišici zagotovite mehko podlago (travo, pesek..) Pooblaščeni prodajalec in proizvajalec izdelka nista odgovorna za padec s hišice. Hišice so namenjene individualni rabi in ne množični uporabi v šolah ali vrtcih. Les je naraven, živ material, ki se pod vplivom razmer lahko spremeni.
Stock:

Sold out

Model:

SUNNY-CABIN

Weight:

50.00kg

Dimensions:

159.00cm x 102.00cm x 94.00cm

Sunny